Last Man Standing, Premiership Season 2014/2015
Next Round Kick's Off 20th September
Entry Fee €5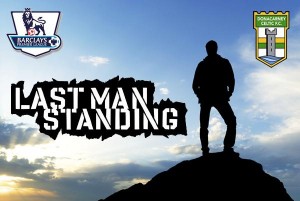 Each week you select a Premiership team to win.
If your chosen team win you are through to next week's round but if your chosen team loose or draw you are out of the competition.
You can only select a team once in the competition.
Your team selection must be submitted prior to 12 noon on Friday of each week (details below)
If you do not submit a team you will automatically get the lowest team of the table (Which you have not yet picked)
All weekly updates can be found on this website
If all remaining people are knocked out at same week end 75% of jackpot money will go to the Pitch fund and 25%of money will carry forward to new fresh round increasing the jackpot.
Open to all over 13 years of age
Please remember it's only a bit of fun , nothing too serious.
Please pass your entry fee to a committee member or team coach. All texts / email must be submitted to 087 8295683 or pro@donacarneyceltic.com
We are now closed to new entries for cycle 2 . We have 20 entries ,
winning player will get €50.00 and €50.00 going to the Club.
To see latest standings on Week 4 click  Here .
Last 3 Players are out so NO MAN STANDING!!
we restart a fresh cycle with a €25 kicker in the pot from last cycle.
so contact us about next cycle!
first round is for fixtures on 8th November.